When commissioning industrial machinery, the importance of correct bearing installation is paramount.
Bearing manufacturers say incorrect installation is directly the cause of 16 percent of all failures – and maintenance specialists say it is likely to be a big contributor downstream to generally shorter service life and resulting maintenance safety hazards.
"When a new bearing is incorrectly mounted – be it by way of poor fitting, brute installation force, or incorrect tools – it can lead directly to premature and sometimes very swift bearing failure," says internationally successful hydraulic tensioning tool manufacturer John Bucknell, who is Founder and CEO of Technofast.
"A poorly installed bearing is not only a pending production liability in terms of service life, but also in terms of expensive downtime and the OH&S factors involved in getting the worn part out again when it fails prematurely," he says.
"Crude approaches may be quick, but they can be nasty and dangerous, risk damage to machinery shafts, and make subsequent bearing failure analysis either difficult or impossible," says Mr Bucknell, whose safety-engineered and money-saving hydraulic tensioning solutions are used in time-critical fastening and service applications ranging from mining and quarry conveyors and comminution equipment, through to applications in conventional and nuclear power stations.
Bearing sleeve withdrawal
These same qualities of speed, precision and avoidance of downtime while ensuring worker safety were demonstrated in service recently with a bearing sleeve withdrawal operation when assembling a new mobile crusher and conveyor. It was being commissioned on-site to make road-base gravel for applications such as new highways and worksite infrastructure.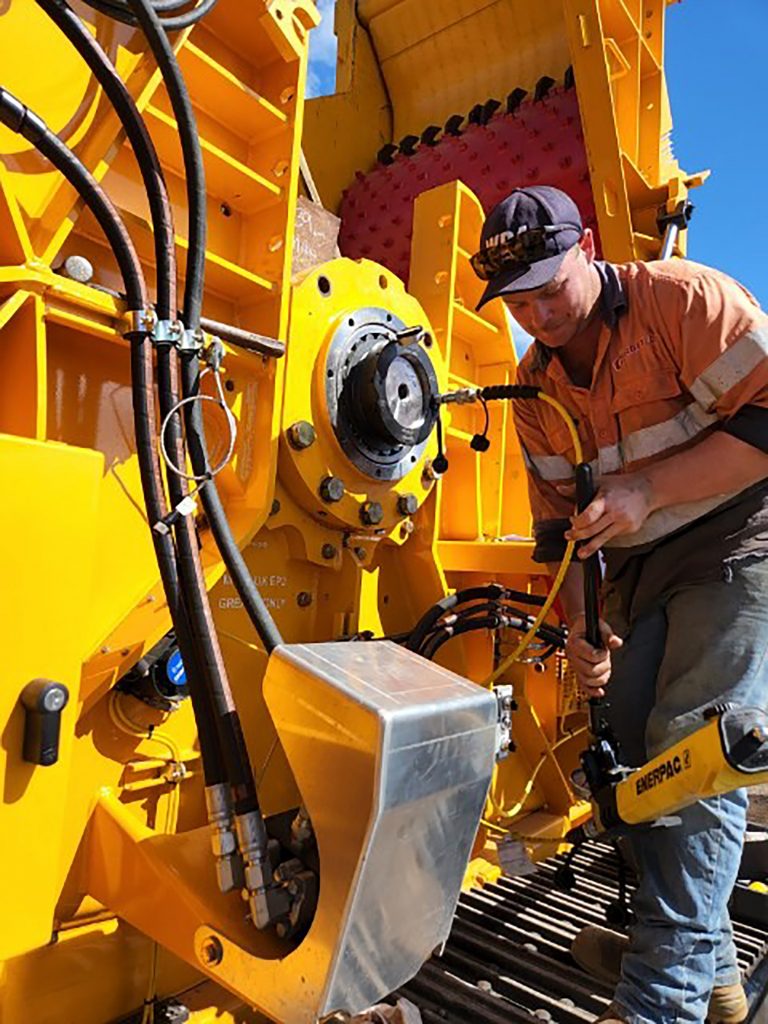 The newly imported machine – purpose-built to be assembled where needed for immediate service – required precision technology that was demonstrably superior to old methods such as using a hand-made jig laboriously fabricated for the purpose, with no way of determining if the process was accurate.
The EziTite Bearing Setter used employed its high-pressure hydraulic oil feed (at 700 bar) to compactly, powerfully, and precisely to complete the process in a controlled and carefully governed process.
"Use of the EziTite Bearing Setter was simple, with the assembly screwed into place and energised with a pressure pump. The internal pressure thus generated acted upon the internal annular piston to press against bearing's inner race, driving the sleeve," said Bucknell. Once the bearing sleeve operation was complete, the pressure was released, and the EziTite Bearing Setter removed.
Technofast's EziTite hydraulic bearing setters are available in standard sizes, or they can be produced for custom applications in as little as two weeks, further reducing potential downtime, says Bucknell.
The principle of the EziTite Bearing Setter's operation is similar in operation to the standard Technofast EziTite Hydraulic Nuts used globally – except the nuts don't have the mechanical locking ring used on bearing installation tasks, says Bucknell. On these, a standard locking nut and washer are set to maintain correct operating preload.
Technofast's ranges of EziTite, EziJac and CamNut products are proven globally in mission-critical applications where speed, precision and avoidance of downtime are paramount. They are easy to fit and remove with little physical effort, optimising safety, and minimising downtime.