What is your role at ADA's Bendigo Factory, and what does this entail?
My role as Bendigo Factory Manager requires me to oversee all aspects of production. This includes staff, skills, cutting, equipment, quality , continuous improvement opportunities, safety and anything to ensure our commitments to the customer are met.
The factory makes protective apparel for many services and businesses throughout Australian and beyond. It is a huge responsibility due to our diverse customer base – we provide to Australian Defence Force, New Zealand Defence Force, New South Wales Health, Victoria Ambulance, Victoria Police, NSW Police, QLD Fire and Emergency Services, QLD Police, WA Fire and Emergency Services, Victoria Country Fire Authority, Victoria Country Fire volunteers, NSW Wildlands Fire, Toll, Energex, to name a few.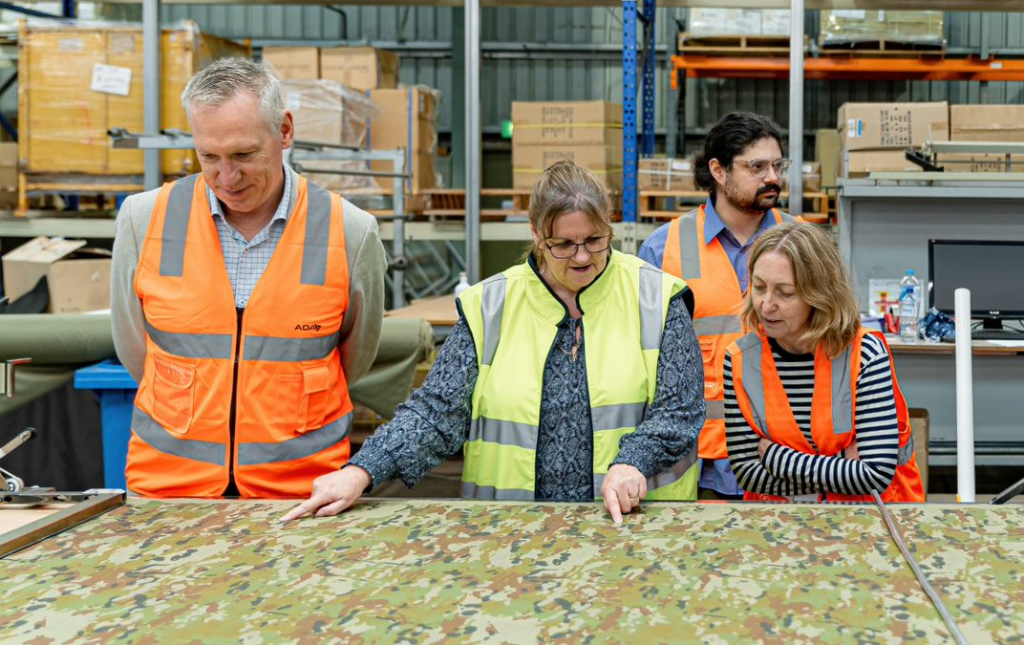 What opportunities for career development and growth have you been provided with during your time at ADA?
There have been so many opportunities that have been provided to me. I started as a sower in 1988, and then moved into the quality side of production, which involved implementing an accredited Quality System. From there I moved into a supervisory tole, before moving into managing the Bendigo Production Facility.
What are the biggest challenges you have faced in the manufacturing industry?
Skill shortages is one of the biggest. We lost valuable skillsets when a lot of the companies took their manufacturing offshore.
Where I grew up, the area was a thriving sewing manufacturing hub, with businesses such as Stafford Ellison, John Brown, Lacoste, Adidas, and other smaller businesses in operation.
Following their closure, people looked at other fields to move into, therefore education and courses on offer were extremely limited and the industry suffered. We were incredibly lucky at that point in time the Australian Defence Apparel (formerly known as Australian Government Clothing Factory) was looking to relocate into a regional area.
Why is working at ADA important to you?
ADA play a key role in ensuring our products are suitable for wearers' use and for the environment they work in. We protect the workers who protect us, from healthcare to those on the frontlines of the battlefields.
How has the Bendigo factory evolved over the years?
It is a different environment we are in now from when I first started. Back then the consumer/ user had no choice, it was an off the shelf one solution for all, take it or leave it. Now the industry responds to what is fit for the user/ consumer and there is so much choice to suit the environment or theatre they work in. Specialised fabrics, comfort, breathability, contamination, performance, durability are some of the key factors we look at when creating a solution.
The products are also now more advanced and specialised due to emerging technologies. When we first started, we were using basic sewing machines, whereas now we have the latest equipment, technology, and automation in the industry. Our staff are multiskilled and can work with a variety of equipment and differing tasks.
What is the process of jobs and skills training in the Bendigo Factory?
We continually review and train our team in areas within the factory. We have warehousing, cutting, pattern making, machinery maintenance, OH&S, Quality Systems; all driven by either our business or customer requirements.
What is being done at ADA to encourage address job and skills shortages?
We are engaging with many of the job networks for employment to address the skill shortages, and our CEO is actively engaged with local government to ensure issues are being raised and addressed.
What are the most rewarding parts of your job?
The people I work with. Knowing we are protecting our first responders.
Do you believe the Australian public understands the value of Australian manufacturing jobs? Why/why not?
Unfortunately, not at all. Many are looking for ways to cut costs, which jeopardises quality products as well as the Australian economy.
What opportunities exist for women in manufacturing?
The opportunities are endless now with all the advancements in technology.
What advice do you have for women interested in starting a career in Australian manufacturing?
Go in with an open mind, explore and feed your passion. There are so many opportunities for woman in this field to grow into roles they had never thought of pursuing.
Reach for the stars!