A Trans-Tasman team of keen motorcyclists from hydraulic hose and fittings organisation, Hydraulink, put their company's 'can do' work ethic into practice recently in an off-road odyssey to see the Moto GP at Phillip Island.
Hydraulink Campbelltown Principal Jeff McCoskery and Australian colleagues Lyndon Heffernan, Chris Greet and Chris Cater decided to show a good time to their Hydraulink New Zealand counterparts – Principal Bruce Andrew and his son Nick from Hydraulink Tauranga – during their visit over the Tasman to Western Sydney, to travel together to see the races 1,000km away.
To make things even more interesting, Jeff decided not to stick to the tarmac highways and byways, but to do as much of the trip as possible charging through fire trails, dirt roads and dense, often nearly invisible, bushland tracks, then overnighting at character-filled local country pubs.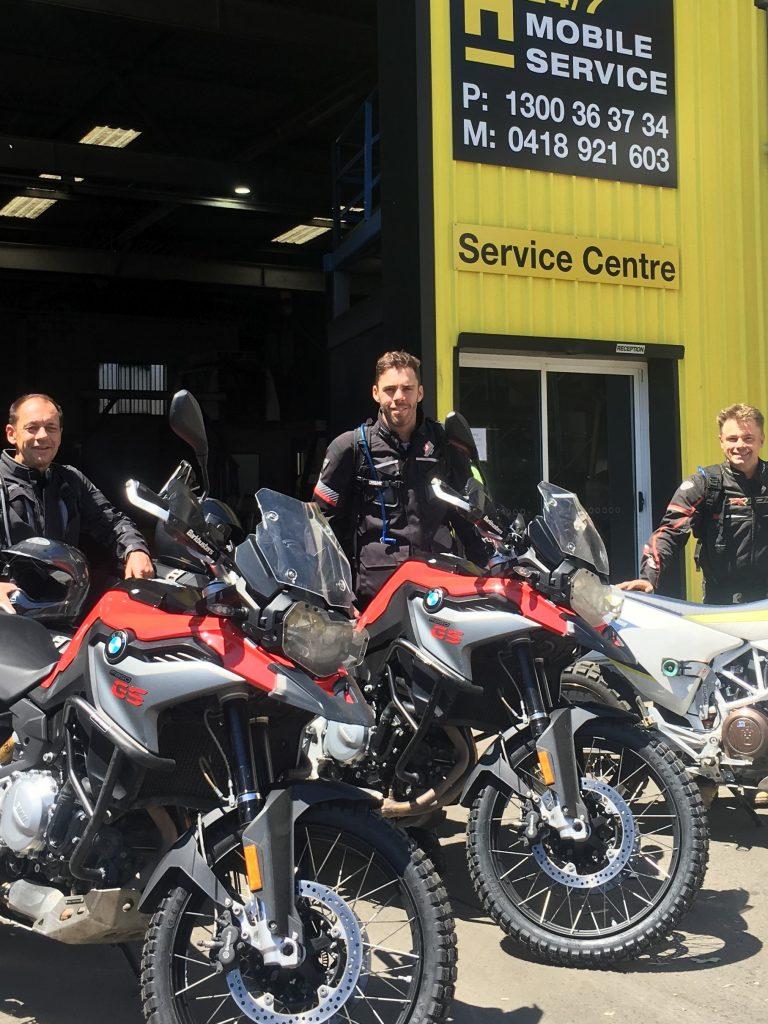 The Hydraulink adventurers set out from Campbelltown, bound for the highway and whatever came their way, off-road.
The cherry on top of an already unforgettable trip was being accompanied by champion riders Chris Cater and Lyndon Heffernan – who was a motor cross and Enduro champ in the 1990s – and now runs guided adventure trail tours organisation 'Detour', as well as the Yamaha off-road riding academy.
Chris is a well-known champ whose achievements date from the 1980s.
"We decided to take the two Hydraulink Kiwis on an off-road adventure they wouldn't forget in too much of a hurry," said Jeff McCoskery, who enjoys the strong camaraderie that exists among the Hydraulink staff throughout over 400 service points throughout New Zealand and Australia, including some of the countries' most rugged territory, where they have to go to deliver their hydraulic hose, fittings and mobile service to customers needing it in the bush or in the Outback.
This trip was even harder than those off-road 4wd trips, because it was exclusively on motorcycles "And we had four days to get to Phillip Island, carrying everything we needed with us," said Jeff, who in typical Hydraulink fashion, went above and beyond the expected by researching the route personally and mapping out some appallingly rough but beautiful country to traverse en route to the relief and sanctuary of little pubs chosen for their surrounding beauty and character.
These venues included Nelligen on the South Coast's Clyde River, followed by Nimmatabel below the Snowy Mountains and Delegate in the Snowy Monaro region near the NSW border with Victoria.
"There were times when I wondered where I was taking these guys – I couldn't tell them I was a bit lost, even if it felt like it occasionally," said Jeff, but the team proved as durable as the bikes they prepared (Huski 701, BMW850s, BMW1200 and Yamaha 660). Jeff had stashed fuel in the bush at strategic points and also knew which little towns had fuel along the way. But, just in case, he kept an extra five litres of reserve on his bike.
"One of the biggest challenges was having enough fuel to get from point A to point B. We didn't want to get lost or have accidents, because we weren't using GPS' on this trip."
"We also had to ensure the river crossings weren't too deep, because the rivers can come up pretty quickly below the Great Dividing Range and we certainly didn't want to be riding in the dark – it was hard enough to see some trails during the day."
"Not knowing the ability of the other riders made it interesting too – I was wondering if I had made it too hard."
"The motorcycle champs set a hot pace, but we wouldn't have seen them for dust if they had been really flat out. Even though one of the guys is in his 70s, they were super-fast."