The new Hydraulink Portland vehicle with directorShane Sewell, left, and technician Jake Carter, right.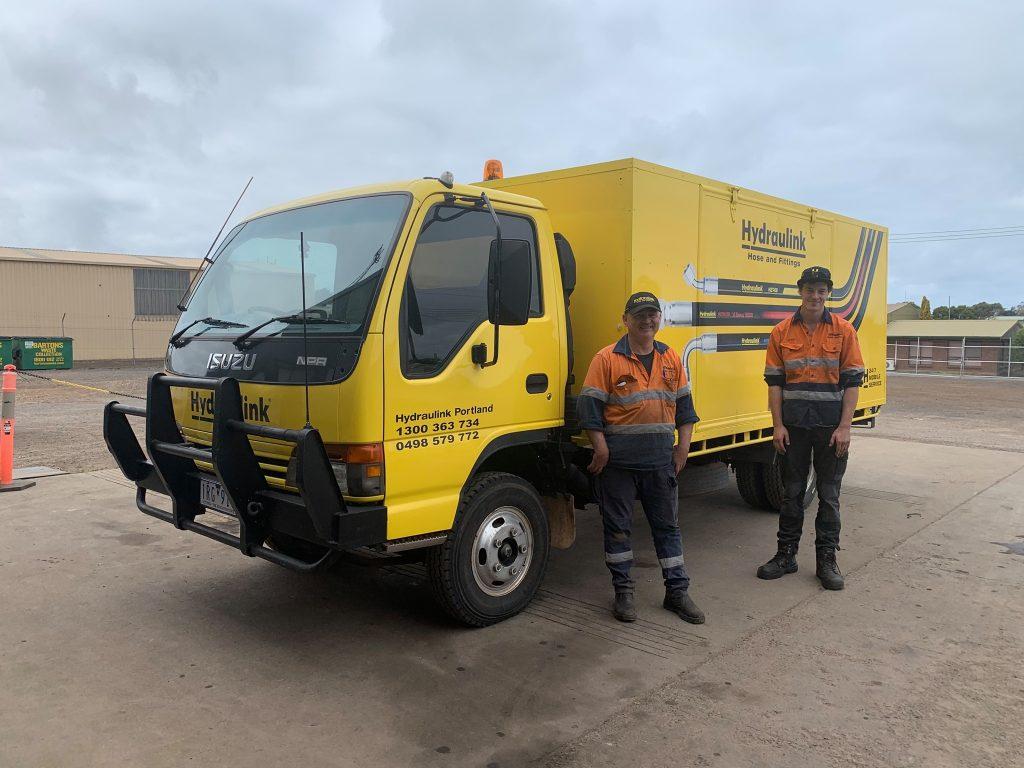 A family business founded on decades of quality engineering for users of diesel transport and heavy plant and machinery is expanding its services to customers by establishing a full franchise in Portland of the national Hydraulink hydraulic hose and fittings group.
Hydraulink Portland – led by husband and wife team Shane and Tamara Sewell of Skiddys Diesel Services – joins more than 400 Hydraulink service outlets throughout New Zealand and Australia operating 24/7 under the market signature "Best Under Pressure".
Shane Sewell says the new business in coastal southwest Victoria extends the range of services his complementary companies can offer market sectors in which he has built up a strong following (including transport, forestry, heavy machinery, marine, fleet maintenance, oil, gas, mining, truck and trailer repairs and maintenance, construction and infrastructure).
Quality engineering is key to the family based company
"This is a close-knit community that values quality, safety and reliability in engineering. We would rather our staff spent extra time ensuring the job is done right, so that when it goes out into the field it offers the best and longest-lasting performance, and avoids downtime," said Mr Sewell, whose new Hydraulink mobile service truck joins his fleet of four vehicles (including 4wd) that range across the district.
"Hydraulink is a good fit for us, because we are founded on the same family and service values of their franchise network, which backs its members and staff with outstanding training and resources. These help ensure proper and uniform compliance with quality and safety standards and traceability of components vital to performance and safety," he said.
"Our whole family is committed to the success of our business. We are customer-centric, just like Hydraulink. We all work in our business – parents and our young adults – alongside outstanding and experienced employees whose capabilities we promote and extend.
"We are all about quality and value and customer responsiveness, which is right in line with Hydraulink's business practice."
Hydraulink delivers essential hydraulic hose, fittings and safety-compliant and traceable service expertise to industries requiring prompt, quality 24/7 service either on or off-site. Hydraulink Portland is centred on comprehensively equipped workshops in Fitzgerald St, with easy access from the nearby ring road.
Hydraulink Franchise Manager Wayne Abbott says customers will welcome the new Hydraulink Portland Franchise because it combines the capabilities of a local and a national leader in their respective fields, giving an assurance of quality and depth of service.
"It is also very reassuring to local customers that the Hydraulink people serving their needs are already familiar with the specialised requirements of their machinery and worksites, particularly in specialised industries such as forestry, transport and heavy machinery.
"Experience of such machinery is not only such a great time saver and safety factor in keeping it operating at peak efficiency, because Hydraulink Portland's service staff already know what they are dealing with and are familiar with customer needs. This is such a time saver for customers – which translates into high efficiency – and is also a great asset to high and uniform safety and compliance practices over many sites."