The new Konecranes Turbine Hall crane, with nearly 30m span, had to be installed in a tight space, and was delivered swiftly and safely, with outstanding cooperation between Synergy and Konecranes
Western Australia's largest electricity generator, Synergy, has installed a new Konecranes 50t CXT double-girder Turbine Hall crane at its Kwinana facility as part of a series of upgrades designed to provide ongoing reliable and affordable energy to its customers.
As the world's leading supplier of cranes to the power industry, Konecranes has designed its Turbine Hall cranes to require less maintenance, and perform reliably over a longer life cycle. Made from only the best quality steel, each crane has overload protection and fail-safe operator controls for optimum safety and reliability.
Synergy is owned by the Government of Western Australian and is a major retailer of electricity, with more than one million residential, business and industry customers across the State.
"We opted to engage with Konecranes due to their history, market share and reputation in the crane manufacturing and service industry. As a Government-owned power generation company, ensuring a competitive quote was key factor in our decision to select Konecranes," said Mr Steve Owen, Mechanical Engineering Officer, Gas Turbines and Distributed Generation – Asset Support, Synergy.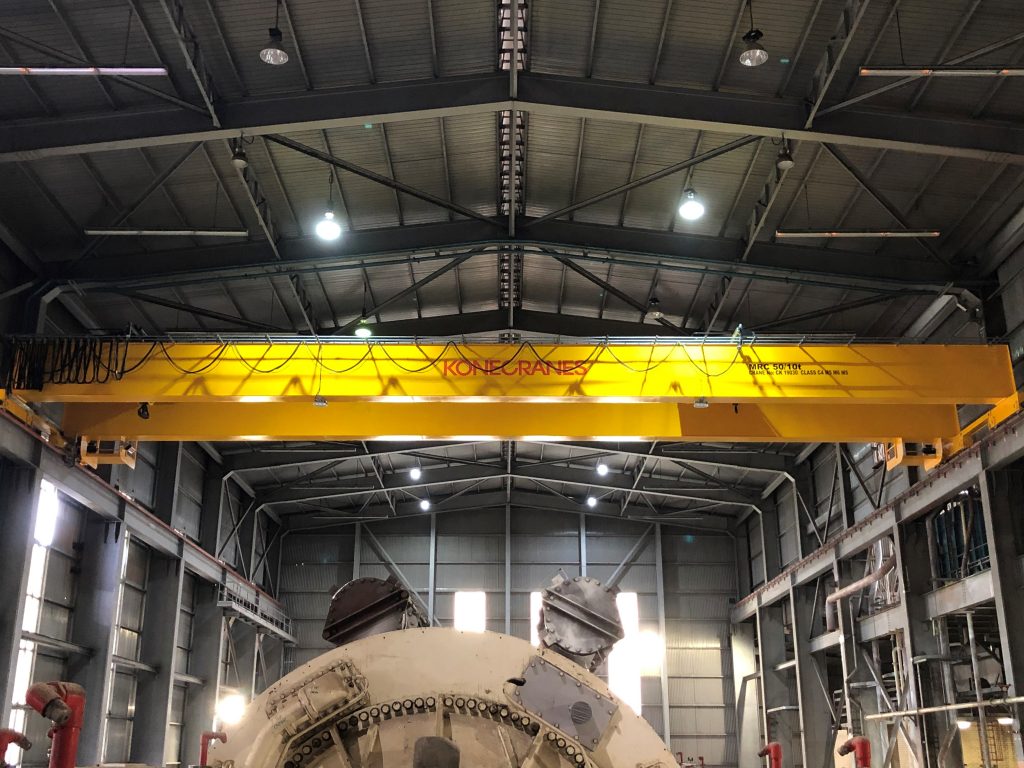 Konecranes' Turbine Hall cranes are designed to set new benchmarks in safety and performance.
"As WA's leading energy generator and retailer, delivery of reliable, affordable energy is Synergy's focus, and choosing reliable partners like Konecranes plays a major role in this service," said Mr Owen.
"Other key benefits Konecranes provided us with were local fabrication, a simple construction process and the ability to meet Synergy's strict guidelines and demanding deadlines for the installation," he said.
"Additionally, due to Konecranes' geographical proximity to Synergy's sites, emergency breakdowns can be acted upon with minimal disturbance to our generating assets."
The new Konecranes 50t CXT double-girder crane was installed with TRUCONNECT remote monitoring and reporting, a 10t auxiliary hoist, IP66-rated protection for harsh environmental conditions, a specialised ramshorn hook, load display, light and horn for overload indication. Both hoists were provided with Extended Speed Range (ESR) for additional safety and control.
Ms Sanni Honkanen, Project Manager, Konecranes explains that, "ESR was developed for high duty applications where near-capacity loads are routinely lifted. ESR uses inverter technology to allow increased hoist speed for light loads."
"The faster hoist speed allows operators to return empty hooks to position or move smaller loads with more speed and efficiency, reducing average hoist cycle time and increasing productivity," she said.
Specialty installation
With the crane spanning 29.575m, and important plant still operating at Synergy's facility, installation posed some interesting challenges. Removal of roof sections, or using large mobile plant were not possible options.
"The new crane had one possible location where it could be installed. This was inside part of a building that's currently being decommissioned. A collaborative approach between Konecranes, Synergy and a mobile crane vendor allowed the very restricted lift to be carried out safely and within a short timeframe," said Mr Owen.
Konecranes and Synergy easily overcame delivery and installation challenges posed by a nearly 30m span of the new Turbine Hall crane.
"Konecranes also had to install 305 metres of new busbar to power the crane the entire length of the turbine hall building. The new electrical three phase busbar is earthing compliant, and conforms to AS1418 and AS3000," said Mr Owen. (Note: AS1418 applies to the safety of cranes, hoists and winches. AS3000 applies to wiring rules for electrical installations.)
Advanced and predicable service
Konecranes' TRUCONNECT remote monitoring and reporting technology was installed on the new crane, to allow for the collection of usage data, which can be accessed remotely from anywhere with an internet connection.
"TRUCONNECT allows me to remotely keep track of the crane's usage and allows me to ensure operators are operating the crane within its lifting capacity," said Mr Owen.
"Konecranes' service division offers a business forecast schedule for the upcoming year, which allows me to schedule crane services around planned unit outages. It also includes the scheduled maintenance costs and it clearly states which pieces of lifting equipment require a service or inspection. It's ideal for budgeting, and ensures all equipment is inspected as per the Australian Standards," he said.
Konecranes is the world's largest crane service company, with more than 600,000 pieces of lifting equipment (of all makes and models) under service contract worldwide.