Leading Australian pharmaceutical firm Phebra has boosted the size and production capacity at its Sydney manufacturing plant with the installation of new European-designed machinery, which can aseptically fill up to 7,500 vials with critical medicines every hour.
The Bosch aseptic-filling machine, designed and purpose-built for Phebra, is the centrepiece of a $10 million upgrade of the company's multi-purpose sterile manufacturing facility at Lane Cove West.
Phebra CEO, Dr Mal Eutick, said the new machinery would significantly expand the company's range of critical medicines produced for local and overseas markets.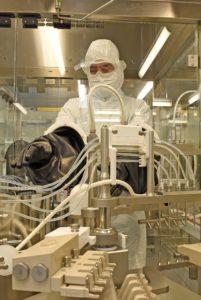 "Our investment in this state-of-art machinery and ancillary infrastructure, delivers additional production capacity and allows Phebra to meet the demands of future growth, especially export opportunities," Dr Eutick, said today.
"The machinery is supported by a newly approved microbiological testing laboratory and other critical support systems and infrastructure and will ensure we maintain high-levels of compliance along the production line in accordance with Phebra's best practices and focus on the highest quality."
Dr Eutick said technicians from Bosch spent three months installing and testing the machine with Pheba's local staff.
"The machinery has expanded technical capabilities and skills development for our existing staff and will create new employment opportunities as we ramp-up our production across the range of our critical medicines," he said.
"The new machinery has been successfully installed and secured and testing and validation is currently underway."
*Phebra is an Australian based specialty pharmaceutical company which develops, manufactures and markets critical medicines in Australia and across the world.