Anthony Spadavecchia, Managing Director at BE Switchcraft.
Tell us about BE Switchcraft?
Based in Adelaide, BE Switchcraft has become one of South Australia's leading electrical switchboard manufacturers. It also makes lighting control and room automation systems as well as energy management systems and provides specialist laser cutting and labelling services.
For over 50 years, BE Switchcraft has designed and made electrical switchboards for many large building projects in Australia and across the region.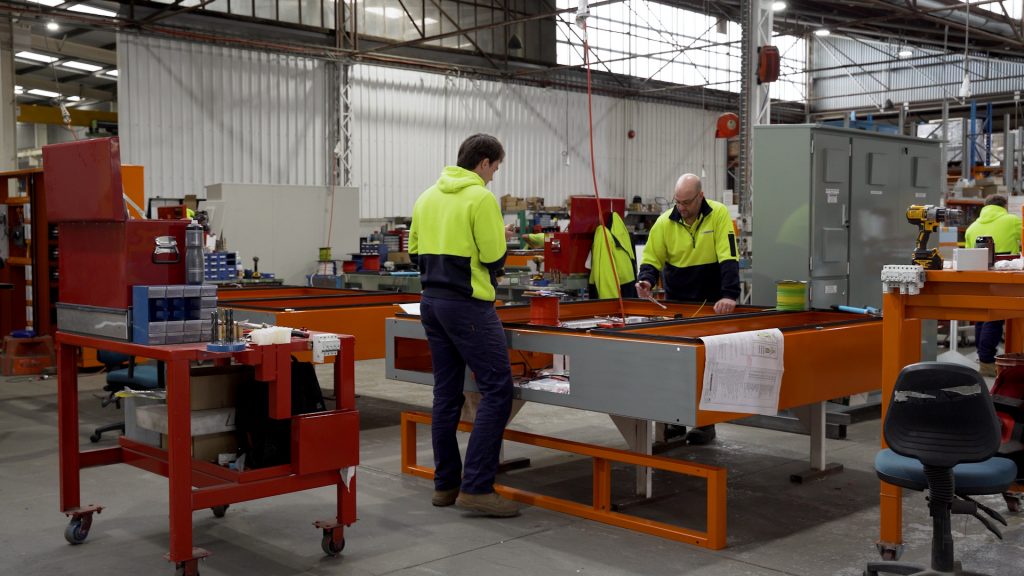 The company has been involved in large projects for iconic buildings such as Parliament House, Canberra, the Adelaide Convention Centre, and the Port Moresby Football Stadium in Papua New Guinea.
What industry and company-level challenges led to BE Switchcraft needing to transform its processes?
As BE Switchcraft grew from manufacturing 100 switchboards per month to more than 200 each month, the company needed to find new ways to track, monitor and manage each of its projects, with the existing processes not set up for such high volumes.
The production of switchboards requires many individual steps, and the management team needed full visibility into the respective step each project was up to in order to keep customers apprised of which stage of development their switchboards were at and to ensure they were being produced in accordance with customers' requirements.
How were you introduced to Zebra's solutions?
BE Switchcraft worked on enhancing its manufacturing processes with Datanet, a Zebra PartnerConnect business partner. After working with BE Switchcraft to understand the challenges it was trying to solve, Datanet introduced the company to Zebra's radio frequency identification (RFID) solutions, which included Zebra's FX 9600 fixed RFID readers, which were complemented by Zebra-compatible RFID antennas and an RFID label printer.
How did you find the implementation process?
Although the original manual process was initially replaced with a barcode scanning solution that ended up being short lived because it was still quite labour intensive, BE Switchcraft was able to continue using the documentation for that project with the new Zebra RFID project, a factor that helped to make the implementation of Zebra's solution surprisingly simple.
The Zebra FX 9600 fixed RFID readers were easily deployed onsite and, with a little integration work, BE Switchcraft has been able to quickly and successfully capture data from its factory floor in real-time.
What have been some key changes/benefits experienced after the implementation of Zebra's RFID Technology?
With an RFID tag printed and placed on the documentation for each switchboard in production, managers are now able to gain visibility into each stage of the project based on the location of the documents associated with them. Working out where a project is up to is now as simple as placing the bundle of relevant documents near an RFID antenna.
This gives the team real-time visibility into each stage of a project based on the location of the documents. Previously, the original manual process made for a delayed view of the status of products in production, sometimes up to two days late, but this information is now available instantly and in real time. Additionally, the data is now automatically integrated into BE Switchcraft's MYOB enterprise resource planning (ERP) solution, providing real-time updates on the status of each project.
How has this transformation impacted the employee experience?
When BE Switchcraft first upgraded its tracking process with the barcode-based system, the need to manually scan documentation meant it was still very labour intensive for team members. However, with the Zebra RFID solution in place, there is now an element of integration and automation which helps to remove those manual elements to the process, meaning team members have more time for other things.
Most importantly, managers have access to real-time data relating to the status of different projects in production. This gives them a greater ability to better manage customer expectations and oversee the smooth completion of individual projects.
What are key trends in the Australian manufacturing industry to expect as we approach 2023?
The continued automation of manufacturing processes remains a big part of the ongoing evolution of the manufacturing sector in Australia and further afield. Automation in manufacturing has been around for a long time, but now we're beginning to see such automation extend beyond the factory floor into the operation and back-end processes of the businesses themselves.
With technology such as Zebra's RFID solution bridging that gap between the assembly line and the bottom line, companies in the manufacturing sector are identifying and enabling more opportunities to further streamline their businesses for greater competitiveness both domestically and across the region.
How can technology help navigate local industry challenges that manufacturers are facing currently?
The manufacturing sector is at a point where technology has become a fundamental differentiator between those companies that can compete in a globalised market and those that cannot.
Production costs vary wildly from country to country, and in many regions, technology is the lever that enables the greater productivity needed to compete against lower cost regions.
Additionally, the production of highly complex products has become a big part of the manufacturing sector, with technology playing a major role in organisations' capability to produce such complex products.