A Melbourne engineering company, Lockelec Innovations, has solved the problem of wayward supermarket trolleys, with a Bluetooth remote controlled trolley collector, the Red Rover. 
The bane of supermarket operators worldwide is the manual collection of the ubiquitous supermarket trolleys scattered throughout car parks. Not only is the practice of collecting the trolleys labour intensive and unproductive, it results in numerous injuries and costly Workcover claims.
Coles supermarkets, conscious of the 'trolley problem', scanned the world for technology which would make the collection of the trolleys a simpler, more ergonomic process.
After an exhaustive search and numerous prototypes, Coles chose Braeside-based engineering company Lockelec Innovations to create a solution. After twelve months of developments and trials, Lockelec's remote-controlled (Bluetooth) 'Red Rover' was born.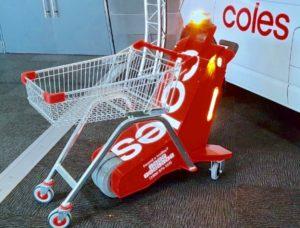 The innovation recently won Coles' Rising Star award for Supplier of the Year, which was accepted in Melbourne by Lockelec Managing Director Stuart Lord, a third generation owner of the Braeside company.
'We genuinely love the challenge of finding innovative solutions by thinking out of the square and were thrilled to have Coles' support,' Lord said. 'The Red Rover is a Game Changer because it reduce manual handling (of trolleys), makes the workplace safer and is much more efficient.'
(Lockelec leads the world with their compact lithium-powered electric motors and a range of innovative technology solutions to make workplaces safer and more productive;- in hospitals around the world, hotels, supermarkets, banks and even the MCG).
The ingenious Red Rover trolley-collector removes the manual-handling hazards involved in trolley collection and results in significant productivity improvements. A staff member provides direction of the 'trolley train' by simply guiding the lead trolley in the desired direction, while the Red Rover provides silent, motorised pushing power from behind.
Innovation has been a part of Lockelec's fifty year, three generational culture which has pioneered countless battery-powered innovations across materials-handling, hospitality, health care and public transport systems.    The Red Rover, billed as the 'sheep dog of supermarket trolleys', is earmarked for a national and global roll-out.