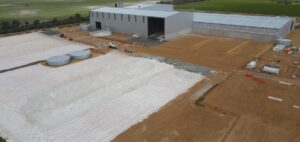 WA Kaolin is using Rockwell Automation technology to enhance operational efficiency as it ramps up production.
A new kaolin mining operation in Wickepin, Western Australia, is utilising an integrated automation solution to reduce overall costs, improve scheduling, and deliver ongoing benefits to operations.
Kaolin, which is becoming increasingly valuable, is a soft white clay that has been surging in demand, with uses in applications including paper and plasterboard, ceramics, fiberglass, paints and coatings, plastics, rubber, pharmaceuticals and medicine, cosmetics, concrete construction materials and agriculture.
WA Kaolin – an ASX-listed mineral exploration, extraction, and processing company – has developed a proprietary dry processing method known as K99, which turns raw material into market-suitable feedstock for global customers.
Combined with the high quality of the ore reserve, the K99 process delivers high-quality ultra-bright kaolin at a lower cost than conventional chemical bleaching and magnetic separation processing.
WA Kaolin has constructed a Stage 1 commercial processing plant on a three-hectare site in Wickepin, about 200 kilometres southeast of Perth, Western Australia. The site has been identified as having a mineral resource estimate of more than 600 million tonnes of extremely high grade, easy access kaolin across its mining and retention tenements, one of the largest known remaining premium primary resources of kaolin in the world.
There is a strategic plan in place to expand production capacity to exceed 400,000 tons per annum (tpa) after 36 months, so WA Kaolin selected engineering and planning consultancy, Willyung Electrical & Controls Engineering (WECE) to manage the process of steadily scaling up.
WECE analysed the requirements, and selected Rockwell Automation's PlantPAx® Distributed Control System (DCS) to provide a single, plant-wide control system, with the flexibility to make better and faster business decisions and a scalable solution for future expansion.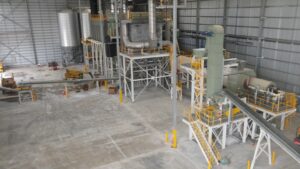 In late 2022, WA Kaolin successfully commenced production at the Wickepin Kaolin Project in Western Australia following a challenging development timeline.
Plant-wide control and visualisation reduces risk
Rockwell Automation's PlantPAx DCS will monitor and run the facility from a single point of control, providing seamless integration into control and power systems, and outputting data that is easy to analyse.
The latest version of PlantPAx DCS has been designed to be an integral part of a digital transformation strategy that boosts productivity and profitability, while reducing operational risk.
"Large projects like the WA Kaolin Wickepin processing plant are complex, and it's easy to come in over-budget or off-schedule if the right automation technology isn't implemented upfront," said Raj Singh, channel manager, Rockwell Automation.
By seamlessly integrating process, power, and information across the plant right from the outset, WA Kaolin was able to achieve a faster time-to-market, and the system can readily be scaled up as production increases.
"WA Kaolin has taken an intelligent approach by seeking to optimise scheduling and reduce overall costs from the get-go. The cost of a poorly designed control system typically only shows up later in the project, when it's at its most expensive to address. Instead, by engaging Rockwell Automation at the beginning of the project, risk was minimised, and the customer is now looking at cost savings and a reduction in schedule time," added Singh.
The Wickepin plant is currently in production with expansion processes in progress, and by utilising PlantPAx for plant-wide control, WA Kaolin and WECE estimate it will save 20% on costs, and achieve a 15% schedule reduction.
Kaolin, which is becoming increasingly valuable, is a soft white clay that has been surging in demand, with uses in a broad range of applications globally.
Faster time-to-market
One of the major benefits of Rockwell Automation's PlantPAx DCS for new facilities is a faster time-to-market, which means plants can begin producing quicker.
"Having total plant visibility in the planning stage means that from inception to delivery, total time is reduced. After analysing WA Kaolin's robust and ambitious scale-up plans, we determined that Rockwell Automation had the best automation solution for the project and for the future," said Chris Bock, managing director and principal electrical engineer, WECE.
WECE is a WA-based specialist supplier of electrical engineering and control systems integration services for industries including agriculture, forestry, food and beverage, materials handling, mining, water, and wastewater.
"As a system integrator, being able to deliver to the end user in a reduced timeframe is a major win. Rockwell Automation's technology has been instrumental in enabling us to achieve these gains," added Bock.
WA Kaolin chief executive officer, Andrew Sorensen, said, "In late 2022, WA Kaolin successfully commenced production at the Wickepin Kaolin Project in Western Australia following a challenging development timeline. Since then, WA Kaolin has continued to ramp up production to our Stage 1 capacity of 200,000 tonnes of kaolin per annum and commenced planning to increase output at Wickepin towards our Stage 2, 400,000 tonnes per annum target."
"To achieve these milestones, WA Kaolin required a reliable control system for our processing site from Rockwell Automation and Stratus Technologies, which could withstand the conditions of the operating environment. The solution had to be straightforward to deploy as we completed construction of the project and once operational would then require minimal ongoing maintenance to enable maximum efficiency for our team."
Stratus Technologies delivers simple, protected, and autonomous zero touch computing. Together, Stratus and Rockwell Automation deliver innovative control solutions that deploy quickly, are easily supported by OT personnel, and provide unmatched reliability. Stratus platforms bring modern IT practices including virtualisation, thin clients, and resilient computing to the edge of industrial networks.
"Working alongside Rockwell Automation and Stratus, Willyung Electrical & Controls Engineering has delivered this solution at the Wickepin Kaolin Project with positive results. Importantly, the control system is a scalable solution and supports WA Kaolin's strategy to rapidly increase capacity from the processing plant without downtime over the coming years," added Sorensen.
The PlantPAx system is based on four core principles:
Plant-wide Control and Optimisation: The PlantPAx system uses a common automation platform for seamless integration between critical areas of a plant. Benefits include common platforms, seamless information flow, ease of management, and lower total cost of ownership.
Scalable and Modular Architecture: A wide range of architecture options for increased flexibility are provided with the PlantPAx system. This means easy integration without replicating data, faster time to market, and scalable system capabilities such as HMI, batch management and data collection.
Open, Information-enabled, and Secure: The PlantPAx system is based on open communication standards leveraging EtherNet/IP as its backbone. As a result, secure real-time information is readily available throughout the enterprise for better business decision-making.
Flexible Delivery and Support Network: Users can select the optimal implementation and support team based on their needs with a PlantPAx system, with the long-term confidence that the investment is protected with support from Rockwell Automation.
"PlantPAx is ideal for projects starting small and looking to scale up. The system uses widely accepted modules, and maintenance and customisation are both straightforward tasks. The diagnostic data from PlantPAx can be combined with Rockwell Automation's machine learning algorithms to predict plant issues in advance, and minimise downtime," concluded Singh.