​Each industrial revolution has transformed production, delivered better economic output, and, consequently, immense economic gains globally. But something has shifted in the past two decades—manufacturing productivity growth appears stuck.
Labour productivity is a major metric of economic output, and gains in productivity are important because, on a macro scale, labour productivity determines the standard of living of people, nations, and the world.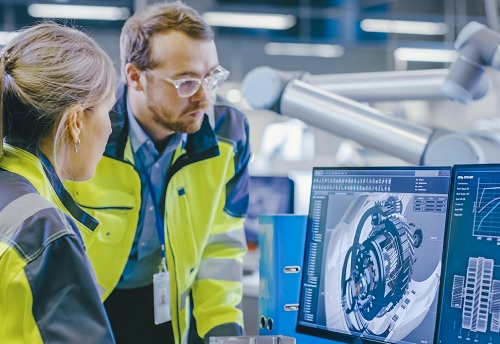 Currently economic output is moving in lockstep with the number of hours people work.
Enter the Fourth Industrial Revolution—the newest chapter in industrial development that promises to ignite stalled labour productivity in manufacturing via connected machines, people, data, and value chains.
In that sense, the smart factory could potentially ignite stalled labour productivity and unlock the key to productivity for manufacturers.
But how?
Every manufacturer—whether already "running smart" or yet to invest in smart factory technologies—can harvest business value from smart factory initiatives.
Smart factory initiatives accelerate business value creation. Companies report as much as 10–12 percent gains in areas like manufacturing output, factory utilisation, and labour productivity after they invested in smart factory initiatives.
There is a direct and established connection—primarily through investment and use cases—between smart factory initiatives and the business value realised. What's more, any manufacturer can use this connection.
While there are risks, primarily operational and financial, they are outnumbered by the smart factory's value contribution. Also, most risks can be mitigated through rational stakeholder selection, an efficient change management strategy, measurable proof-of-concepts, and incremental investments.
Early smart factory adopters report average three-year gains of 10 percent for factory output, factory capacity utilisation, and labour productivity.
A closer look at labour productivity trends indicates that smart factory initiatives will likely enable the US manufacturers to "observe" triple the labour productivity growth rate during the next decade (2019–2030) compared to last decade (2007–2018).
What does this mean for manufacturers?
The promise of improved labour productivity is certainly enticing for manufacturing, as the industry sits in the midst of a labour shortage that is on the brink of becoming a drag on productivity.
Technology can spur new levels of productivity throughout the factory as companies combine technologies (such as vision systems, harmonic sensors and cobots with cognitive computing, machine learning, and autonomous capabilities). Each industrial revolution has seen this curve.
Significant labour productivity gains manifest toward the end of the cycle, reflecting the cumulative impact of reaching a critical mass of technology adoption.
Trailblazers lead the way
There are three distinct cohorts of adopters of smart factory initiatives – Trailblazers, Explorers, and Followers.
Each cohort represents a different approach toward smart factory adoption. Where activity, maturity, and outcomes are concerned, Trailblazers are leading the way. In fact, this group has seen twice the level of gains to labour productivity compared with Explorers and Followers combined.
Furthermore, Trailblazers expect increases in labour productivity to continue to accelerate ahead of the average over the next three years. Clearly, Trailblazers have determined the formula for extracting value through investments in smart factory initiatives.
Final thoughts
Whether manufacturers are just starting on their smart factory journey or well along the pathway like Trailblazers, there's no doubt that smart factory initiatives could have a significant impact on manufacturing productivity.
Naturally, there are caveats. There is also a need to launch these initiatives properly to set a team up for success. When and how smart factory use cases are launched can determine their success.