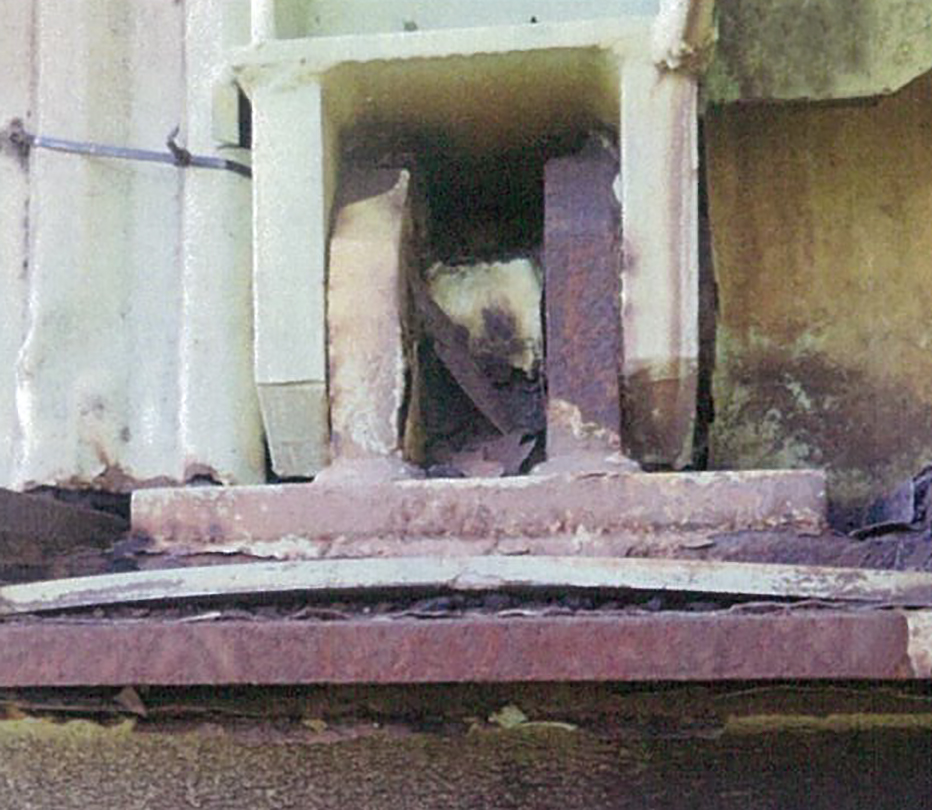 An old structural bearing that has failed in service. Hercules Engineering's custom long-life structural bearings provide a more durable solution to prevent failures like this.
Corrosion and deterioration of worn or poorly designed sliding bearings used in minerals processing and materials handling production lines can cost downtime and maintenance where these unprotected components suffer reduced lifespans or failure in aggressive production environments or extreme natural conditions.
Instead of protecting the support structures of containers such as surge bins – by absorbing movement from heat expansion, changing load and impact as raw material is transferred to crushers – defective bearings can ultimately lock up and transfer distortions, strain and cracking into the support structures, interrupting production and creating a safety hazard.
"Sometimes the problem is gradual moisture or production material ingress into the bearings, which can cause abrasive damage to the sliding components and corrosion of mild steel plates.
Other times deterioration can be contributed to by aggressive environments and extreme weather acting over time to weather exposed joints," says bearing specialist Mr David Booty, Manager, Hercules Engineering (a division of Cut To Size Plastics).
Hercules Engineering recently provided a no-maintenance solution to such issues by producing a Herculon Type D Free Floating (HLD-FF) bearing custom-engineered to optimise the lifespan of such bearings used beneath surge bins.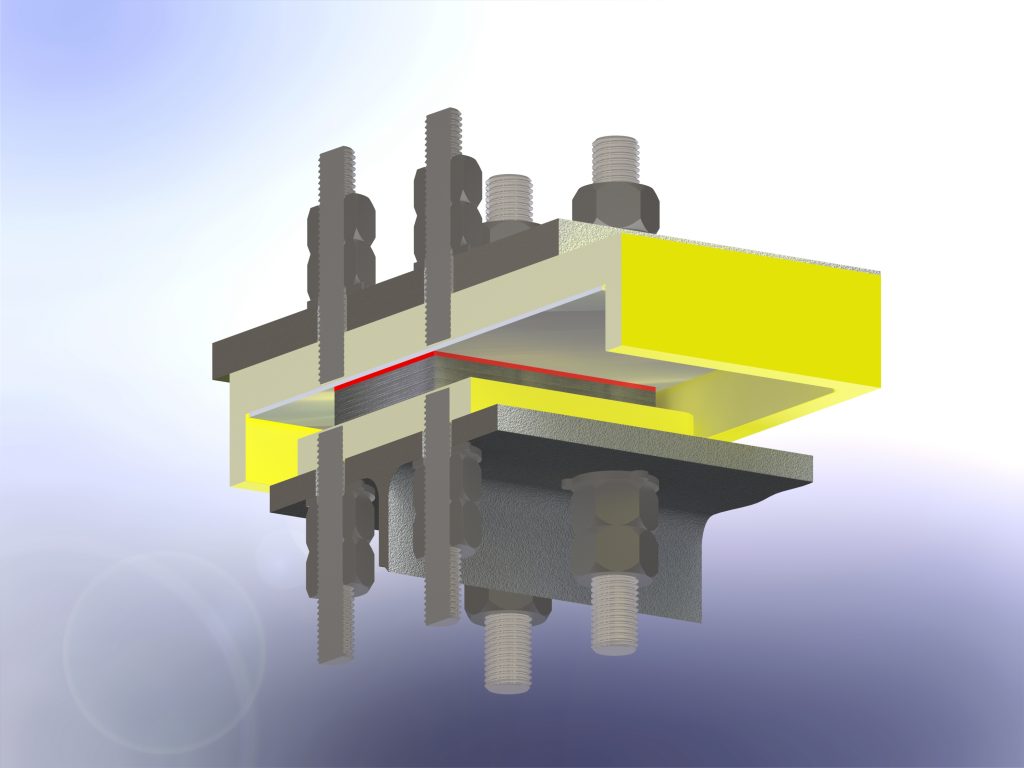 Custom-fabricated Hercules HLD-FF (Free float) composite slip joint engineered for outstanding durability and lifespan in aggressive mining and materials handling applications. HLD-FF components shown in 3D schematic, as per description below.
The customisable HLD-FF bearing is fabricated from a sandwich of Herculfon, Hercupad and stainless steel plate, all contained between mild steel top and bottom plates. The smooth, inherently corrosion-protected stainless surface slides against a Hercuflon (Teflon-type) material atop a coated, fabric-reinforced, natural rubber Hercupad.
Hercupad material accommodates in-plane rotations and provides shock absorbing properties. It helps to distribute the loads more evenly between structural components, and it partially compensates for slight misalignments naturally present in most structures.
The Hercuflon surface provides the required durable sliding to cope with production and ambient conditions within pre-specified lateral and longitudinal limits required to protect the structure on which the surge bins are mounted.
Like the Hercupad foundation layer, the Hercuflon is contained within an enclosed structure that is protected from the moisture and material ingress problems that can otherwise cause bearing joints to fail, says Mr Booty.
The compact custom bearing (220 x 150 x 51mm thick) is constructed with solid Top Plate and Lateral Restraint Guides machined from one plate, not welded.
This will exclude any chance of weld failure of the lateral restraint guide bars and enhance simplicity and cost-efficiency by removing the need for weld structural certification. Depending on applications, it is warrantied against failure for typically 50 years, provided it is installed correctly and used within the specified design limits.
These latest bearings are a refinement of the HLD design, proven over decades of service as low friction bearings on point load structural components and columns. They can be used under beams and slabs and also under pipes, ducts, conveyors, pressure vessels and small span bridges.
Hercules Engineering provides a technical brochure (see here) to assist in specifying the correct parts for Hercuslip joints and complementary Herculon ranges of structural bearings.
The document includes recommended slip joint solutions for optimum cost-efficiency and durability for buildings ranging from hospitals and shopping centres, carparks, transport terminals, office towers and warehouses through to factories, storage tanks, silos, boilers and industrial and resources plant such as pipelines, conveyors, pressure vessels and processing facilities across a diverse range of industry. Included is advice for technologies required for different types of structures located across areas of widely differing climatic and geographic diversity.