Attendees at this month's TMC Trailers Trucking Industry Show will get a first look at IVECO's all new Euro6 ACCO model, which will be previewed at the event prior to its launch in the coming months.
The new range – of which several models are currently undertaking real-world trials with selected customers in New Zealand – features the latest in Euro6-rated engines as well as industry-leading safety features and driver appointments.
Manufactured at IVECO's Melbourne production facility and sharing their basic architecture with the soon-to-be-launched X-Way, the new model also ACCO retains some of the best features of the previous generation trucks, which made it a favourite for tough vocational applications.
Available in 6×4 and 8×4 configurations, the vehicles will be equipped with IVECO front axles, tapered two-leaf parabolic suspension and rear IVECO 8 bag Electronically Controlled Air Suspension (8×4 models also receive front Electronically Controlled Air Suspension), with Meritor tandem drive axles featuring Active Traction Control and driver controlled diff locks.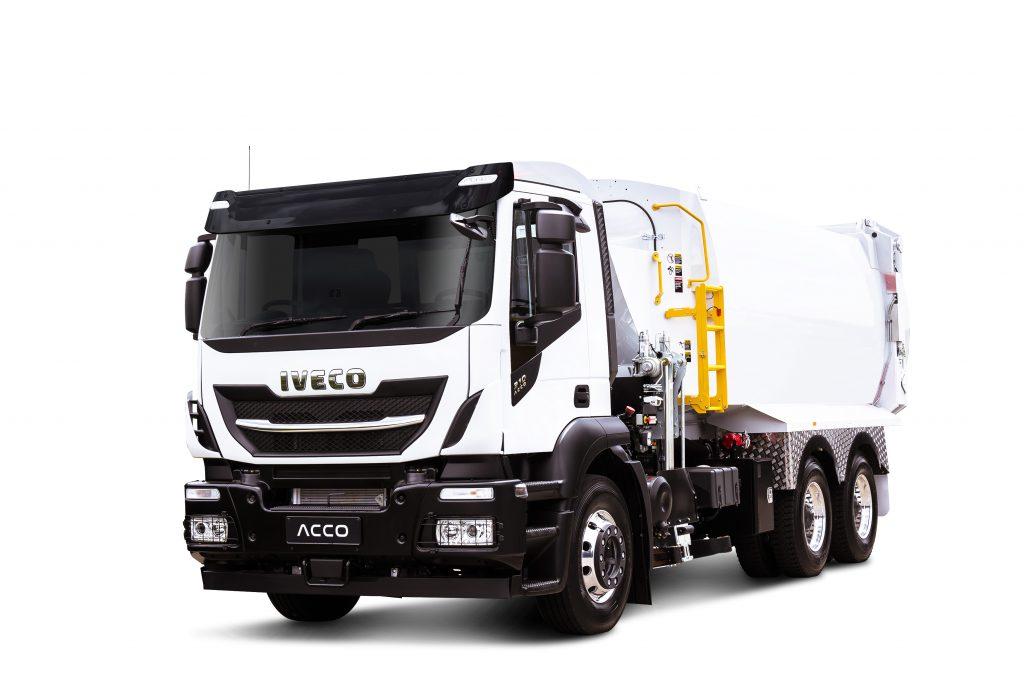 For refuse collection applications, IVECO will continue to offer a factory dual control system, and has consulted extensively with the waste industry to develop a variety of body mounting and chassis layout options to suit a variety of bodies.
The model is also available with a Parker Chelsea PTO, a favourite for waste collection work.
The latest ACCO will feature SCR Euro6, Cursor 9 engines with between 310 and 360hp and 1300 and 1650 Nm of torque, with emission control handled via IVECO's Hi-eSCR system.
The engines will be matched to the Allison Generation Five 3200 Series, 6-speed full automatic transmission.
Aside from the adoption of cleaner, more efficient Euro6-rated Cursor engines, the new ACCO range has also made significant gains in the area of safety, which will position the model as one of the safest available.
Included as standard is Adaptive Cruise Control (ACC), Anti-lock Braking System (ABS), Electronic Braking System (EBS), Advanced Emergency Braking System (AEBS), Electronic Stability Program (ESP), axle load indicator, electronic battery cut-out and L.E.D daytime running lamps and rear L.E.D lights.
Operators will also benefit from a new cabin design that offers additional visibility and comfort combined with the easy access the previous generation ACCOs were well regarded for.
Another familiar feature includes the three-piece steel front bumper with headlight mesh protection, providing added durability and lower maintenance costs if these components are damaged in the field.
Inside the cabin, the operator is treated to an ergonomically-designed work space with modern instrument cluster and intuitive dashboard layout.
Creature comforts include a variety of standard and optional equipment including automatic climate control, ISRI air suspension seat for driver and passenger and heated and motorised mirrors.
But staying true to its hard working heritage, the new ACCO has retained its simple interior design with the use of tough, hardwearing plastics and easy-clean trim for easier upkeep in dirty environments to provide the best of both worlds.
IVECO Dealer Principal New Zealand – Wholesale and Retail Operations, Jason Keddie, said the ACCO was a transport industry legend in New Zealand, and that given its status in the market, IVECO had worked tirelessly to ensure the latest version of this truck would do the iconic nameplate proud.
"Initially developed for the Australian army in the years following World War II, the ACCO model was a tough, no nonsense vehicle that was extremely reliable and would outlast the competition," Mr Keddie said.
"There are still many ACCO models from the 70s on New Zealand roads today, and the oldest surviving and registered ACCO is in fact housed at Bill Richardson Transport World in Invercargill.
"The new Euro6 ACCO will stay true to its origins in terms of its durability and low total cost of ownership, while introducing some of the cleanest and most efficient engines available along with high level safety features. The enhanced driver comfort levels are also something that ACCO drivers of yesteryear would not have even dreamt of.
"Like its predecessor, we expect that the new Euro6 ACCO will quickly find favour with buyers involved in demanding refuse collection, concrete agitator and construction applications."