Intralogistics leader, Swisslog, demonstrated its latest warehouse automation technologies, including the Australian and New Zealand launch of its new AutoPiQ technology, at CeMAT 2023, Australia's largest logistics and materials handling exhibition.
Swisslog Head of Sales and Consulting, Sean Ledbury noticed a stronger presence by automation companies, and fewer manual materials handling exhibitors at this year's event.
"It makes sense in a climate of labour shortages that companies are looking to automation to meet customer demand and deliver on time, and CeMAT certainly reinforced that this is where the market is moving," he said.
"Compounding the issues faced by e-commerce, e-grocery, retail, food and beverage, and industrial businesses is the increasing cost of land, so maximising output within the same space can be highly beneficial to profitability and performance," adds Ledbury.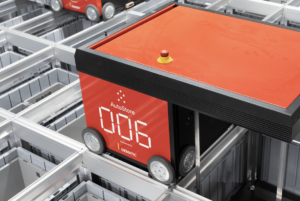 (Right) One technology on display at Swisslog's CeMAT 2023 stand was AutoStore, a grid-based Automated Storage and Retrieval System (ASRS), for which Swisslog is the number one integrator, globally.
Swisslog Managing Director, Dan Ulmamei added that it's an exciting time in the industry, as everyone looks at innovative ways to tackle local and global challenges.
"With our new customer-focused strategy, refreshed brand, and experienced management team in Swisslog ANZ, I believe Swisslog is ideally equipped to meet industry needs today, and into the future," he says.
Scalability and intelligent software
"Speaking with the CeMAT audience, the industry is focused on being future-ready. People use to talk about being future-proof, but in reality, no one can really know what the future holds – it may not even exist yet! Instead, companies need to be equipped with the best technology, best features, and most useful data so that when a new need arises, they can adapt quickly, and better meet their customers' needs," says Ledbury.
"Swisslog provides future-ready technologies in two main ways. Firstly, we have modular automation solutions, designed to scale up as a business grows, or adapt as their needs change. And secondly, our SynQ software, which combines Warehouse Management System (WMS), Warehouse Control System (WCS), and Material Flow System (MFS) functionality, with the ability to seamlessly interact with Enterprise Resource Planning (ERP) and e-shop systems."
"SynQ provides real-time data and intelligence, so that companies can consistently optimise their warehouse and operations. Furthermore, SynQ has a click-and-solve functionality directly from its 3D visualisation, so an operator can access any pallet within the automation, view its details, and make any changes directly."
First reactions to AutoPiQ's soft touch
CeMAT was the official launch of Swisslog's new AutoPiQ technology in Australia and New Zealand.
AutoPiQ combines AutoStore – a grid-based automation solution for which Swisslog is the leading integrator globally – with Swisslog's ItemPiQ robots, which are equipped with an intelligent vision system and multifunctional gripper to enable gripping of a wider product range.
CeMAT visitors take a tour of Swisslog's head office to view a demonstration of the new AutoPiQ grid-based automation solution
To demonstrate this technology, Swisslog set up a demo at their head office (a short walk from the CeMAT exhibition hall), and had a live stream showing at the CeMAT stand. Visitors were invited to see the technology first-hand with tours of the office.
"Visitors were intrigued by the movement of the robot, and when they realised the lighter, defter touch it has compared with traditional picker and gripper robots, it opened up new picking possibilities that are highly beneficial to automated warehouses," said Ledbury.
"Delicate products have often relied on manual handling or separate solutions to the main automation system, but with AutoPiQ, a wider range of delicate items can be handled by the main automation, leading to greater productivity and better ROI," he said.
"The AutoPiQ solution also improves overall pick efficiencies, allows operation with lights off logistics, and improves supply chain efficiency with batches being picked over the weekend or overnight, ready for the next morning."
CeMAT highlights
Other highlights of Swisslog's CeMAT 2023 display included a live demonstration of its latest CarryPick modular and flexible AGV-based storage and order picking system, and guest speeches by Swisslog experts on intralogistics topics.
Swisslog Senior Consultant, Steve Dimitrovski joined SKUTOPIA co-founder, Talea Bader to discuss how SKUTOPIA is using a Swisslog MFC solution to save space and maximise efficiency. Micro-Fulfillment Centres (MFCs) provide a high density and more sustainable solution than traditional warehousing alternatives.
Swisslog Senior Consultant, Charles John, and Sales Consultant, Richard Bercich, discussed how ROI can be greater when maximising the space in an existing warehouse, compared to purchasing a new site. Charles and Richard used the examples of Jaycar Electronics Group and BevChain, where Swisslog has installed highly customised automated warehouse technology to maximise their operational footprint.
For companies experiencing growth, it can be tempting to look at establishing an additional warehouse to cope with demand. But the capital expenditure and ongoing costs mean payback can take a long time. Instead, many e-commerce, retail, and industrial companies are looking at ways to maximise their existing operational footprint with intelligent and space-saving automation solutions, with a quick ROI.
The future of automation
CeMAT provided visitors with a chance to see the future of intralogistics automation first-hand, but for those that were unable to attend, Swisslog has a number of advanced automated warehouses operating across Australia and New Zealand, and can organise tours of these facilities.