BlueRoom, a world first, multiplayer, mixed-reality simulator created by Australian company Real Response and being used by the Royal Australian Air Force, took out the most Innovative Project Award for 2023 at the Simulation Australia Awards in Adelaide.
The groundbreaking BlueRoom Simulator emerged from a company of medical professionals and software developers in St Kilda, Australia, and is now enabling Navy, Army, and Air Force medics to master the use of real medical equipment and navigate intricate medical scenarios within a virtual environment.
The BlueRoom Simulator leverages state-of-the-art mixed reality (MR) technology, utilising the Varjo XR3 headset, to provide an immersive and interactive platform for medical practitioners. Unlike traditional virtual reality (VR) experiences that rely on controllers, MR empowers users to engage with the virtual realm using their own hands and physical movements, mirroring real-world interactions.
This pioneering technology holds immense potential within the medical field, offering professionals the opportunity to hone their skills in diverse and challenging settings. From field operations and remote hospitals to helicopters, aircraft, and naval vessels, the BlueRoom Simulator enables medical practitioners to develop muscle memory and refine their techniques.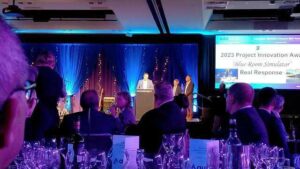 The award judges stated that "the innovative combination of mixed reality was judged as an outstanding solution for highly engaged learning. The efficiency in relation to cost, as well as the ability to develop fine motor skills is a great use of a novel technology."
Co-founder of Real Response and registered Paramedic, Benjamin Krynski, expressed the game-changing nature of the BlueRoom Simulator, stating, "BlueRoom completely reimagines what is possible using simulation – a student can be placed into any environment, and a trainer can manipulate the scene and adjust the patient's condition all while the student is performing interventions using their own hands with real equipment."
One of the most remarkable features of the BlueRoom Simulator is its cost-effective approach to practising in challenging and high-demand scenarios. Medics can now learn critical procedures, such as IV insertion and medication administration, while being transported across the Pacific Ocean in a C130J Hercules or attending to patients on a Blackhawk UH-60 during takeoff.
Support for the development of the BlueRoom Simulator was provided by the Defence Innovation Hub, and it has since been further developed for use by the Royal Australian Air Force. Real Response continues to refine this groundbreaking technology, creating new virtual environments for medical training and exploring its potential in a wide range of industries.
BlueRoom CTO Dale Linegar highlighted the importance of the Simulation Australasia Innovation Award. "This award validates the massive amount of investment and hard work our team have put into making the BlueRoom Simulator a reality. It's incredibly gratifying to be given this recognition by our peers in the simulation industry."