Vaxxas is a clinical-stage biotechnology company commercialising a needle-free vaccine patch.  Global charitable foundation, Wellcome, has made an award of AU$5.4M to conduct initial studies and a  Phase I clinical trial for a potential second generation typhoid vaccine delivered by Vaxxas' proprietary high-density microarray patch (HD-MAP) platform technology. The project is expected to be completed within two years.
The typhoid vaccine formulation used to coat the HD-MAP will be based on an approved typhoid conjugate vaccine that was jointly developed by Vaxxas' collaborator in this project, SK bioscience, and the International Vaccine Institute. The typhoid vaccine candidate used in these studies will be formulated to be stable at higher temperatures than required for needle and syringe vaccination.
Improved thermostability of vaccine products is a key potential benefit offered by Vaxxas' HD-MAP platform, and has the potential to reduce the cost and complexity of cold-chain distribution and storage, which are both significant barriers to vaccine accessibility in lower- and middle-income countries. The HD-MAP also has the potential benefit of requiring less training to administer and even self-administration. As such, success in this endeavor has the potential to increase global access to the typhoid vaccine.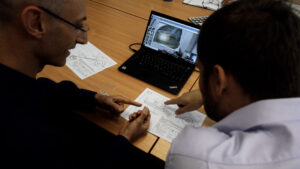 Typhoid fever is a life-threatening systemic infection caused by the bacterium Salmonella enterica serovar Typhi (commonly known as Salmonella Typhi) which is usually spread through the ingestion of contaminated food or water.
According to the World Health Organization, an estimated 9 million people globally are infected by the disease each year. Of this, approximately 110,000 people die from the disease, mostly in lower income countries, and disproportionately children, where water quality and hygiene are compromised.
"To help protect more people at risk from deadly diseases like typhoid fever, new vaccine innovations are needed to improve access and ensure equitable coverage," said Wellcome Senior Research Manager Pierre Balard. "Vaxxas' HD-MAP is an important step in this direction. With the potential to overcome some of the most enduring barriers to vaccine access in lower income countries, this product could be a vital addition to our global toolkit."
Vaxxas is committed to advancing multiple clinical programs to further validate the significant benefits its HD-MAP platform can bring to a range of vaccines for major diseases. This project continues to build on the progress of its HD-MAP technology in human clinical studies with other vaccine candidates including COVID-19 and influenza.
"We are excited to be initiating this important work with Wellcome and SK bioscience to leverage our HD-MAP vaccine platform to potentially enhance typhoid vaccination," said Vaxxas CEO David Hoey. "We believe our HD-MAP has the potential to play a critical role in extending the global reach of typhoid conjugate vaccines, and make a significant difference to the lives of many."
SK bioscience, which also provides vaccines for flu, shingles and chickenpox, received funding to develop its typhoid vaccine initially from the Bill & Melinda Gates Foundation. Based on its immunogenicity and safety, the vaccine obtained an approval for exportation from the Minister of Food and Drug Safety in May 2022, and is expected to obtain WHO Prequalification this year.
Furthermore, the vaccine has shown in clinical trials that it provides acceptable immunogenicity and long-term preventive effects with a single-dose administration and can be administered to infants six months to two years of age.