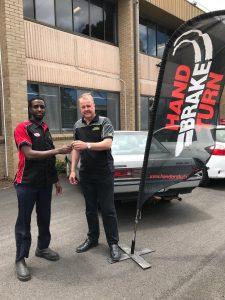 Yahye Ali from Hand Brake Turn receives the car from Tom Rozsa, Branch Manager of Hydraulink Laverton.
A man whose day job with Hydraulink Australia is keeping the wheels of industry turning, recently turned his mechanical knowledge to good use by donating his spare car to disadvantaged people in his locality.
Tom Rozsa, Branch Sales Manager in Laverton for the Australasian Hydraulink Group, knew the veteran Mitsubishi Magna he had bought near-new for his wife could be given to a more worthwhile cause than simply being sent to the wreckers, even though it was just sitting in his driveway.
"All three of our daughters learned to drive in that car after my wife was finished with it, so the vehicle was kept in good condition. But it was a bit of a boomerang, because when each of the kids got on their feet and bought their own cars, it kept being handed back to me. I thought it would be a waste to take it to a wrecking yard, so I was pleased when a friend of mine told me about Concern Australia's Hand Brake Turn programme," said Tom.
This partly Government funded organisation aims to help turn around the lives of people who need a helping hand. It takes on young kids who have left school and want to try their hand at mechanical repairs. If a car is donated beyond repair, they use it to pull apart to find out how they work.
Social recycling – fix and re-use
"Or, in the case of a car in good condition, they restore it to roadworthy. Once done, it is re-registered and then sold to a disadvantaged family or a single parent at the same cost it took to bring it back to spec," said Tom, who has been involved with the industrial and security sectors for many years and has significant experience in these fields.
Mechanical expertise given to trainees at the Hand Brake Turn programme can be useful across huge and vital mechanical equipment, including dozers, graders, and the host of civil engineering, earthmover and industrial equipment vital to Victorian infrastructure and industry.
"We like fixing things at work and keeping them in tip top condition, and I didn't want to see our own faithful car, which was a good piece of machinery, go to waste. So I was pleased to find a worthwhile cause that could use it – and I will also be interested to find out what else I can do to assist them."
Hydraulink Group Marketing Manager Daniella Laurenzi says that whilst Tom's donation of the car was entirely his own initiative, it is applauded by his peers at Hydraulink, who are frequently active in social programmes – ranging from a recent sleepout at Head Office to raise money for homeless Australians, through to fundraisers for maltreated animals.
"Tom's thoughtful and generous action is definitely one of the big individual initiatives I have heard of in our workplace family, but it's not uncommon amongst Hydraulink staff, and it's a gesture that's very much in line with the kindness our colleagues display and support. He will be embarrassed to be getting attention from his workmates who are very impressed," she said.