As production automation seeks to drive down the cost of manufactured and processed products, machinery engineers must find materials that enable their designs to achieve faster, more efficient and more reliable applications.
The search for high performance materials that are also low cost, safe and sustainable has led some producers away from traditional metal solutions and into engineered thermoplastics, which can in many cases be carefully formulated to precise and clean, green performance characteristics for applications.
One example of such new age materials offering outstanding service life as OEM and metal component replacements is the Wearlon family of thermoplastics from Cut to Size Plastics, which are used for machine building, process automation, drive and conveyor equipment and ancillaries used in such industrials as food and beverage processing, manufacturing and materials handling.
There is much more research going on now into the correct materials to use for production automation, because it is a major investment that may be key to a company's future.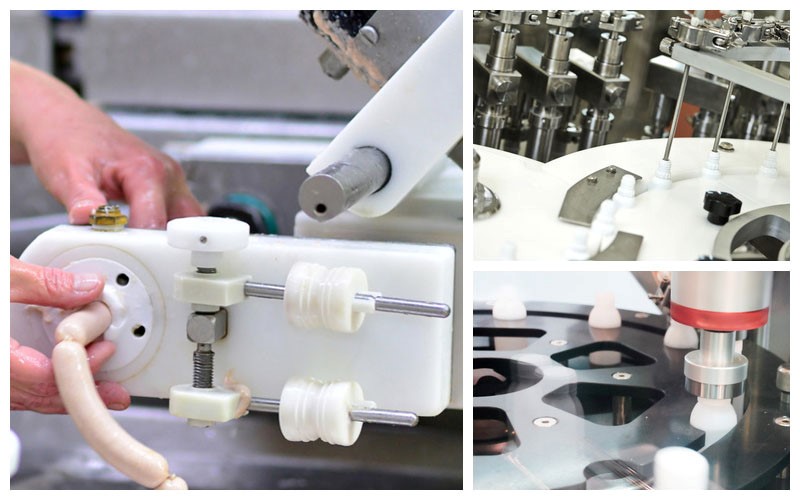 So it is no longer good enough to do things the old way they have always been done, because the rate of change in automation is accelerating and it would be very easy to be left behind completely.
Sometimes change is driven in automating industries by pure economics, while, in other cases, issues such as HACCP food safety requirements are important.
It is important to say there is no one ideal answer to all applications – whether they be metals or engineering thermoplastics – but it is certainly essential to consider all the options.
Where required, Cut to Size can draw on the globally respected expertise of its international suppliers, including Licharz GmbH, producer of Linnotam and other members of Cut to Size's Wearlon family of polyamides.
Licharz's applications laboratories and its 50 years of thermoplastics engineering experience complement Cut to Size's own decades of experience in researching operating conditions for materials and finding the correct thermoplastic for installations.
Cut to Size's Wearlon family of LiNNOTAM HiPERFORMANCE polyamides – including 612 and 1200 grades – are partially crystalline, thermoplastic high-performance polyamides which, using carefully formulated additives and modifiers, have been specially designed for the demanding requirements of specialty components in machinery design.
Engineering thermoplastics are demanding consideration as machinery OEM and maintenance replacement components
These include production-critical applications, such as production automation and high-volume product processing and conveying where downtime costs are considerable and producers wish also to avoid the hazards of replacing heavier and more labour-intensive machinery components.
Wearlon LiNNOTAM HiPERFORMANCE components particularly shine in applications requiring good dimensional stability and fatigue strength, and excellent damping properties. The material can be machined well and is used, for example, for highly loaded wheels, crane float pads and near net shape cast components.
LiNNOTAM HiPERFORMANCE 612 is a polyamide with greater impact resistance, less water absorption and improved creep resistance compared to pure LiNNOTAM cast polyamides.
LiNNOTAM HiPERFORMANCE 1200 is a cast polyamide based on the Laurinlactam organic compound, offering very good impact resistance, toughness, excellent dimensional stability, lowest water absorption, very good creep resistance, hydrolysis resistance and good chemical resistance.
These high-performance polyamides are part of Cut to Size's nationally available Wearlon ranges from the international manufacturer and fabricator of engineering plastics, Licharz, which produces the globally proven LiNNOTAM family of light but rugged polyamides for easy machining and especially long service lives.
The cast polyamides of the Wearlon LiNNOTAM family are virtually free of internal stress. Proprietary lubricants and additives give the polyamides special characteristics which can, for example, improve the sliding properties or torque transmission.
They are materials which can be used in very different application areas.
The LiNNOTAMHiPERFORMANCE members of the Wearlon family represent the peak of performance for the universally proven family of polyamides, which includes globally recognised types such as nylon and Kevlar.
Component applications
LiNNOTAM components can be integral packaging machines, slaughterhouses, transportation or bottling plants, bakery, pasta and confectionery processing machinery, meat, fish and poultry processing machines or machines for cutting and portioning: Parts such as grippers, guide elements, track rollers, support rollers, guide rollers and return rollers, cutting boards, and general engineering parts and components from LiNNOTAM are highly regarded in the food industry because of the following properties:
 light weight
 colour stability
 low cost of production
 high corrosion resistance
 chemical resistance (acids/alkalis)
 high wear resistance (abrasive materials)
 long service life and dimensional stability