Data from the International Federation of Robotics (IFR) reveals that industrial automation is accelerating across the globe.
In 2015, the average global robot density in manufacturing industries was 66 robot units per 10,000 employees. Just one year later, the number increased to 74 robot units.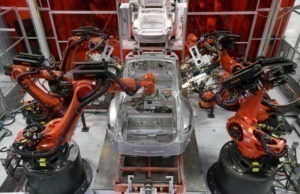 Europe is the reigning champ, sporting a robot density of 99 units per 10,000 workers. The next highest regions are the Americas and Asia, with 84 and 63 units, respectively.
When it comes to overall growth rate, Asia tops the list.
"Robot density is an excellent standard for comparison in order to take into account the differences in the automation degree of the manufacturing industry in various countries," says Junji Tsuda, president of the IFR.
"As a result of the high volume of robot installations in Asia in recent years, the region has the highest growth rate. Between 2010 and 2016, the average annual growth rate of robot density in Asia was nine percent, in the Americas seven percent, and in Europe five percent."
Breaking those numbers further down by countries, South Korea had the largest installation of industrial robots per 10,000 employees in 2016, reaching 631. South Korea's electrical, electronics, and automotive sectors have all contributed to this high installation volume.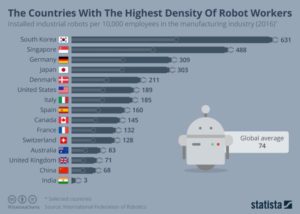 Singapore comes in second, with 488 units. "About 90 percent of robots are installed in the electronics industry in Singapore," according to the IFR.
Germany (309 units) and Japan (303 units) ranked third and fourth, respectively. Check out the full IFR report here to learn more.
https://www.statista.com/chart/13645/the-countries-with-the-highest-density-of-robot-workers/