Leading Australian producer and marketer of premium plant-based foods Fenn Foods, has been awarded position #55 on the prestigious AFR Fast 100 List for 2021.
This latest achievement recognises the significant progress and growth of the company over the past few years, "Our focus on innovation has seen us become one of the 100 fastest growing companies in Australia," says Fenn Foods CEO and Co-founder Alejandro Cancino.
"The resulting capability to enter into new categories will help us build our brand awareness as leaders in premium plant-based food categories."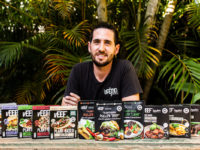 With Australia's plant-based meat industry demonstrating strong upward trajectory towards its $3 billion potential by 20301, Fenn Foods' growth trajectory is set to continue.
The company's dedicated plant-based foods production facility on the Sunshine Coast in QLD, in combination with its continued investment in market intelligence and R&D; provides the platform to validate and launch new products and formats, supporting the category's growth in both retail and foodservice markets, through leading quality, taste and texture.
1 The Food Frontier, 2020 State of the Industry Report
Fenn Foods is Australia's leading plant-based protein producer with one of the largest locally produced food service range in the country as well as a consumer-favourite retail brand, vEEF®.
Founded by renowned chef, Alejandro Cancino, the company has achieved massive growth. Fenn Foods distribute nationwide and are entering new categories every year.
The company is dedicated to innovation with an experienced R&D team working on perfecting taste and texture profiles of existing items and crafting world-first products.
This focus has enabled the company to champion plant-based foods, change Australia's protein culture and position vEEF® as the consumer favourite.