The UT series of 4-wheel electric forklifts, in capacities from 1 to 3.5 tonnes complements the broader UT series range for customers seeking Hyster toughness, quality and strong service backing.
It also brings the performance of electric forklifts to a new market sector seeking optimum cost-efficiency for their needs.
Features of the new machines, which provide an ideal solution to meet users' needs for less frequent usage, include an ergonomically designed operator compartment laid out to help operators work comfortably across a range of applications, including food and beverage, frozen produce, manufacturing, distribution and truck and transport centres.
Power options including wet cell batteries with single point watering or maintenance- free Lithium-Ion technology. Smooth, progressive high performance is provided by AC traction and hydraulic motors with electronic control.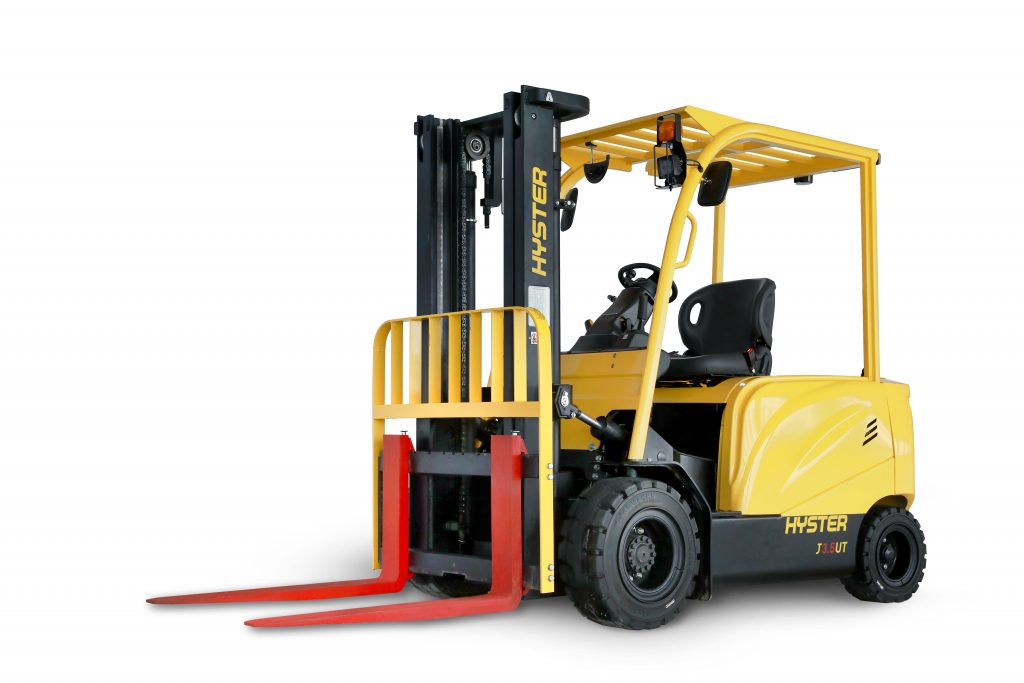 European designed AC controllers are coupled with AC traction and hydraulic motors to allow for precise controllability. A small steering wheel facilitates fine control, with eight degrees of adjustment and low steering effort for operation in confined spaces. The low steering effort without kick-back facilitates precise positioning.
Further features include:
High strength profiled steel overhead guard for added protection coupled with low step height for easy access. The secure overhead guard has passed CE drop test and safety standards.
Wide view mast to enhance operators' forward view field. The high-vis mast provides soft landing technology as standard to absorb shocks. Controlled mast lowering speeds help to avoid damage. LED lighting is standard.
Full suspension seat that reduces driver fatigue, which, like the steering wheel, is adjustable to suit a wide variety of operators. Safety features also include an Operator Presence System.
Performance features include simple and clear display of speed, power, error code and working hours to keep operators fully informed. Colour displays integrated with functions such as performance selection to configure the truck for different applications.
Integrated motor, transmission and axle provide compact performance and accessibility for maintenance. Precision cut gears provide reduced wear and lower noise levels.
The use of high quality and robust components, complemented by outstanding filtration and cooling, helps to provide driver-oriented comfort, reliability and low cost of ownership. These elements, combined with fast availability of cost-effective replacement parts, help to curtail maintenance requirements and costs.
The new machines' value proposition – "Meets the Need. Makes the Move." – relates to customers who don't need particular advanced functionality features, but prefer proven materials handling solutions backed by a supplier which they can trust – and that can provide the support of a reputable service network extending across Thailand, Malaysia, Vietnam, Indonesia, Singapore, Philippines, Korea and Taiwan.
Strong distributor network
Hyster already has a strong and long-established professional dealer and service network extending across Asia-Pacific, strength that is in turn backed by Hyster globally, which has been building relationships and partnering with customers, suppliers, dealers, and employees over many decades. www.hyster.com
Rather than offer one-size-fits-all solutions, the UT Series philosophy opens a discussion with customers to ask, "What are your specific needs and how long do you need to use it for on a daily basis?"