What are your concerns regarding worksite safety?
There has been a lot of discussion recently about scaffolding problems, particularly regarding missing ties. With different trades working on a build simultaneously, miscommunication can cause ties to be removed and not replaced, which is a major risk to the structural integrity of the scaffold.
We're also still seeing the problems associated with the use of non-fireproof cladding – five years on from the Grenfell Towers fire, we've realised just how prevalent the use of substandard products has been.
While these issues have different causes, the underlying theme is the same – compliance (and lack thereof) across the industry. David Chandler, the NSW Building Commissioner, is committed to combating this issue, but it's a big job.
Are the issues widespread?
Unfortunately, yes – non-compliance is an issue throughout the construction industry.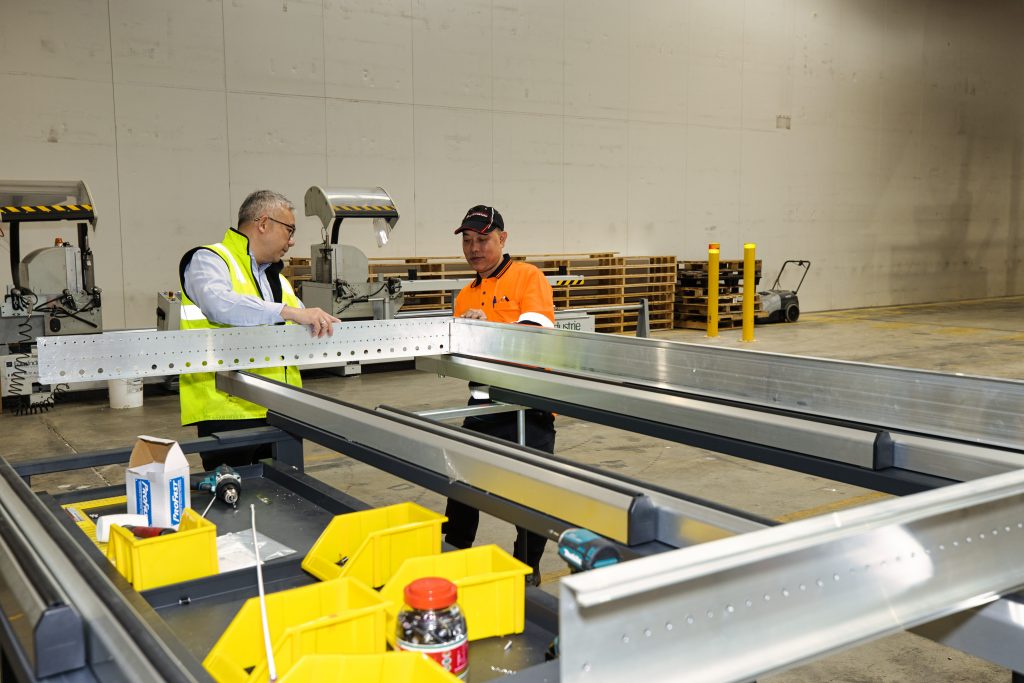 Post-pandemic, we're seeing more new developments than ever – due, in part, to the government's increased spending to stimulate the economy. While construction for new infrastructure, as well as commercial and residential needs, is absolutely necessary to support Australia's progress, corners are being cut.
The manufacturing industry is still experiencing supply chain issues due to the effects of Covid-19; this, combined with cost increases across the sector is leading some contractors to make poor choices. In an effort to limit margin erosion and meet dates of completion, some choose non-compliant products, which not only impact the quality of the build, but safety.
Are there significant numbers of building products affected?
Yes, particularly regarding flammable cladding. Some states have begun schemes to replace this cladding, however the issue is so widespread that it will take 20 years to fix the issue – and many instances go unreported.
The Grenfell Towers disaster reminds us of just how dire the consequences of the use of non-complaints product can be, and unfortunately it tends to impact those in lower socioeconomic areas.
How is your company finding current business conditions?
Very buoyant – quotes have increased by 20 per cent in the last six months alone. Despite the pandemic, the last three years have been very fast-paced, with demand for Construction Specialties products higher than ever.
This demand is driven by a recent focus on new hospital construction, as well as data centres, managed by Tier One builders. These builders use contractors that insist on quality, compliant products – which is why they come to us.
Construction Specialities has gone the extra mile with its internal lining products having attained ISO 9001 compliance and Codemark fire rating certification. In the construction industry, trust is currency, and these certifications clearly signal the high standard of our products.
How difficult is it for your company with staff recruitment and retention?
It's no secret that there is a war for talent at the moment, and Construction Specialties is not immune from it. It is hard to attract the right people, which is why we use recruiters to headhunt rather than relying on job search websites.
Our culture is what attracts, and keeps, staff. Construction Specialties' motto is 'People. Buildings. Better.' – we are a people-first business, and this mindset underpins all of our values, including safety, which is one of our main KPIs.
Having a stable workforce is a real asset, particularly in this market, and we have our culture to thank for our very low attrition rate.
Do you have a comment on the Treasure's announcement in the budget for more housing?
Construction Specialties was glad to hear the announcement. New housing is absolutely required; Australia needs to build approximately 200,000 new homes every year to meet demand, as proven by the current rental crisis.
Residential construction also has a flow-on effect – housing is a catalyst for economic growth. It not only enables the support of the population's needs, but the trade requirements for builds, internally and externally, and the demand for supplies boosts the economy.
Is mass production of these houses in itself a security issue matching your concerns?
In general, housing construction is not of concern. Most large housing construction companies know exactly what is required down to the nail, and don't have compliance issues.
Safety issues tend to be more associated with high-rise residential construction, though this only effects only one to two per cent of these builds. 'Value engineering' – a euphemism for cutting corners – is the cause of these issues, and Chandler is clamping down on it at a policy level.
Where do you see opportunities for your company going forward.
Construction Specialties is seeing huge growth in louvres at present – quotes have grown up to 400 per cent is this area. In particular, we're seeing orders for data centres and commercial buildings, as our performance louvres offer Class A Rain Defence, allowing for temperature regulation while protecting valuable tech machinery from the weather.
Specification for louvres could be better regulated, so contractors for important construction projects, particularly in health care and data centres, come to us; our extensive product testing and accreditations put us ahead of the game. Rather than using computer modelling – which is unreliable – we test rain penetration through the louvre in a full-scale test chamber.
We've also seen high demand for expansion joint covers; we have one of the most comprehensive ranges of expansion joints in the world, known for their quality and design-led manufacturing.
What particular thing/s would make business better for your company at present?
Compliance and regulation – the industry needs a level playing field. While cost has always been an issue, in the current market price is often the primary concern, causing contractors to choose substandard products that compromise on quality and safety.
Mandating compliance at an industry level ensures that suppliers and contractors are playing by the same rules, resulting in better outcomes for construction projects, and improving the reputation of our sector as a whole.